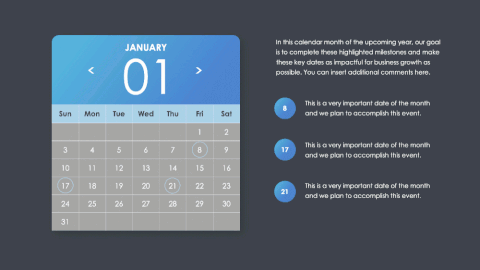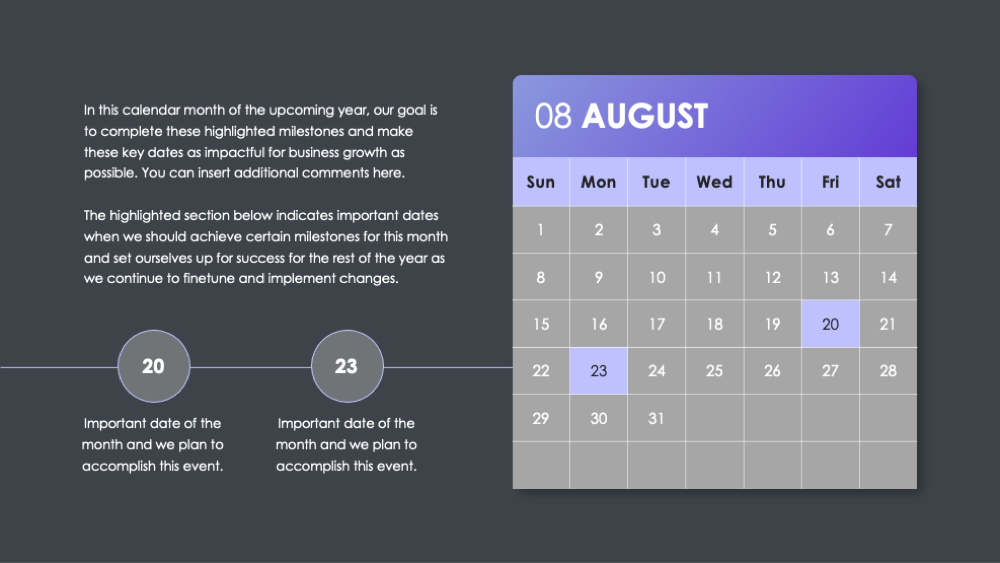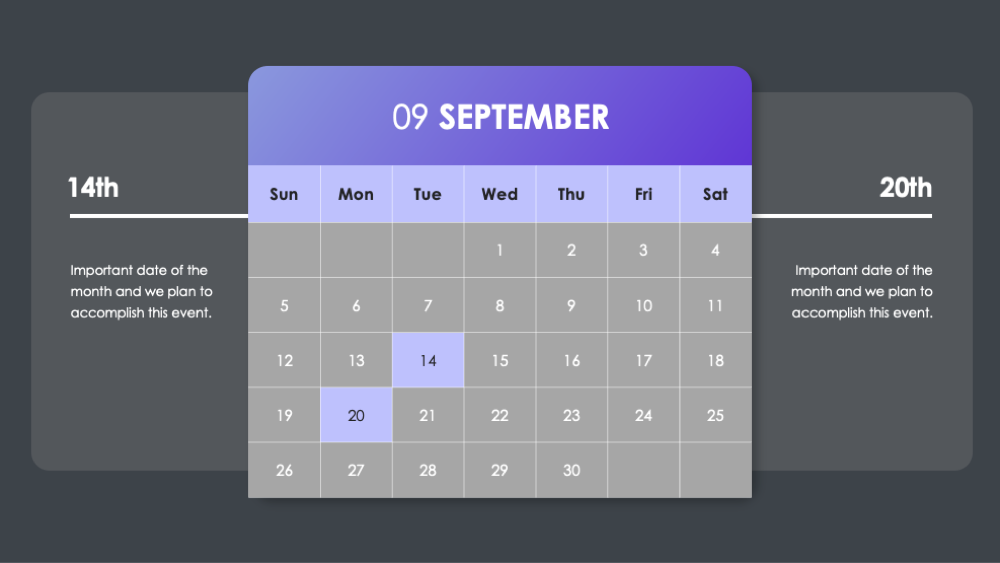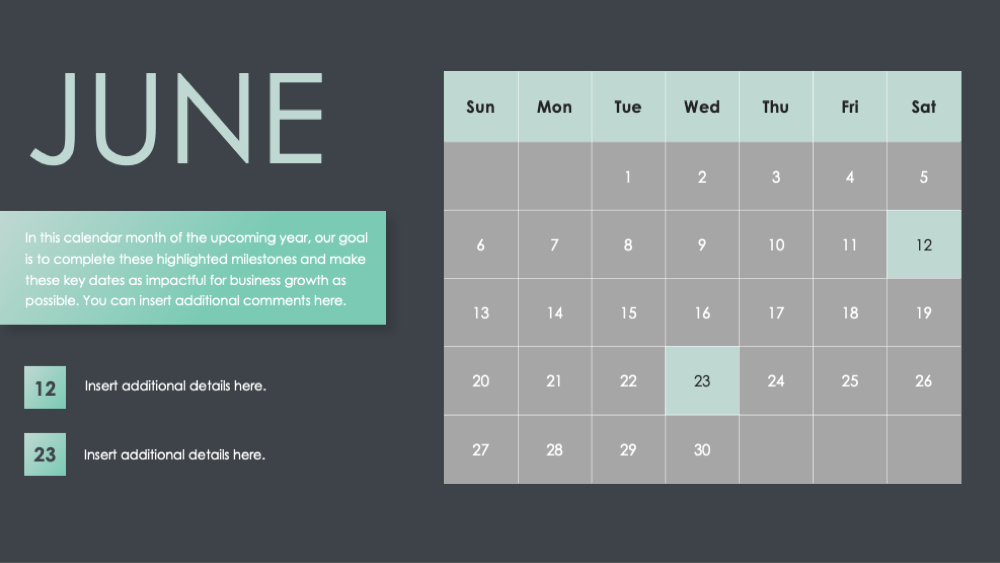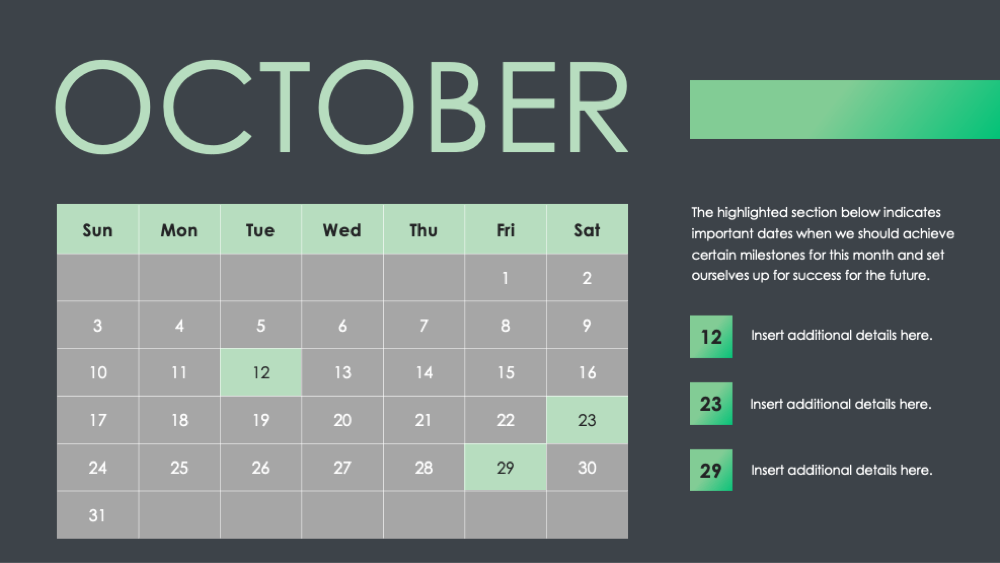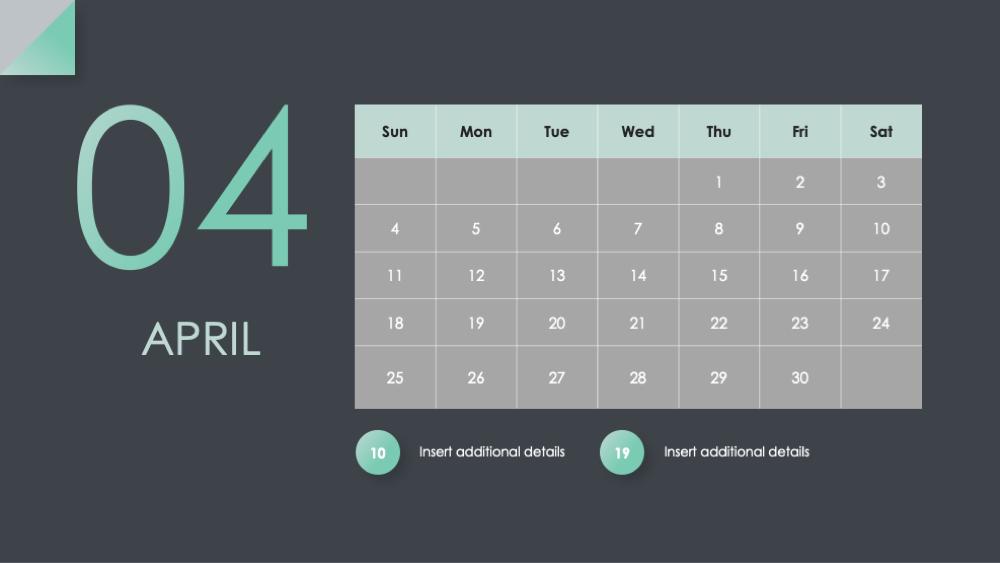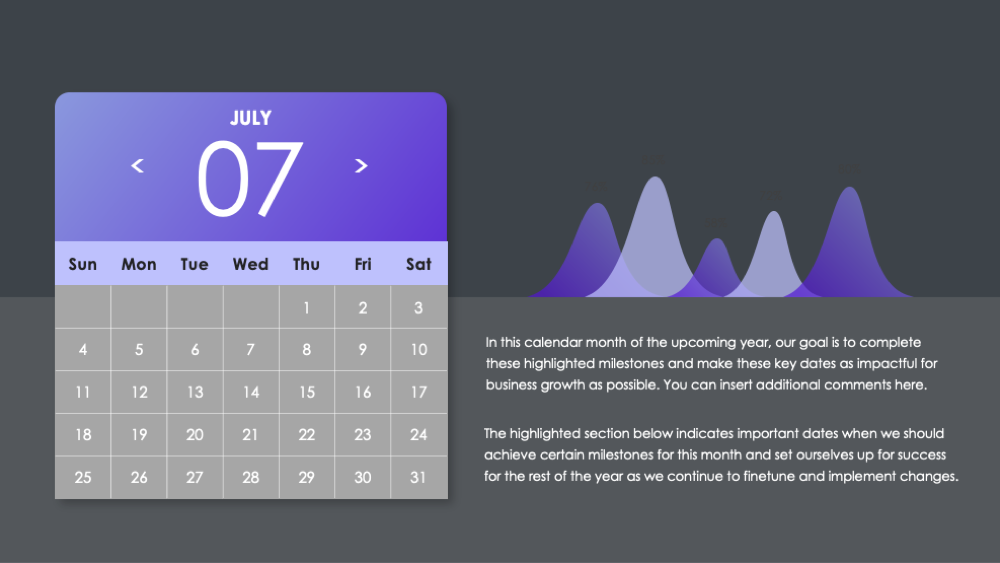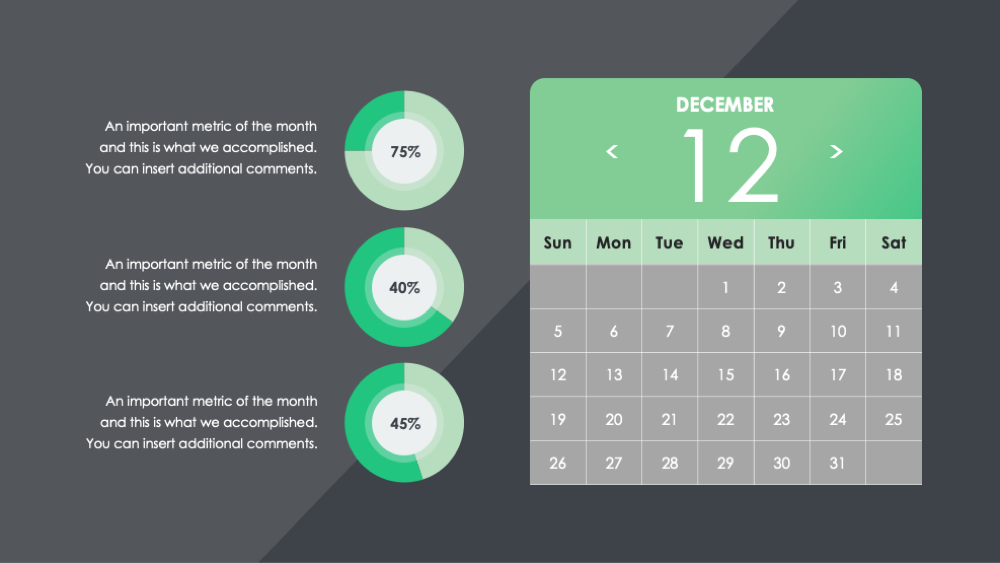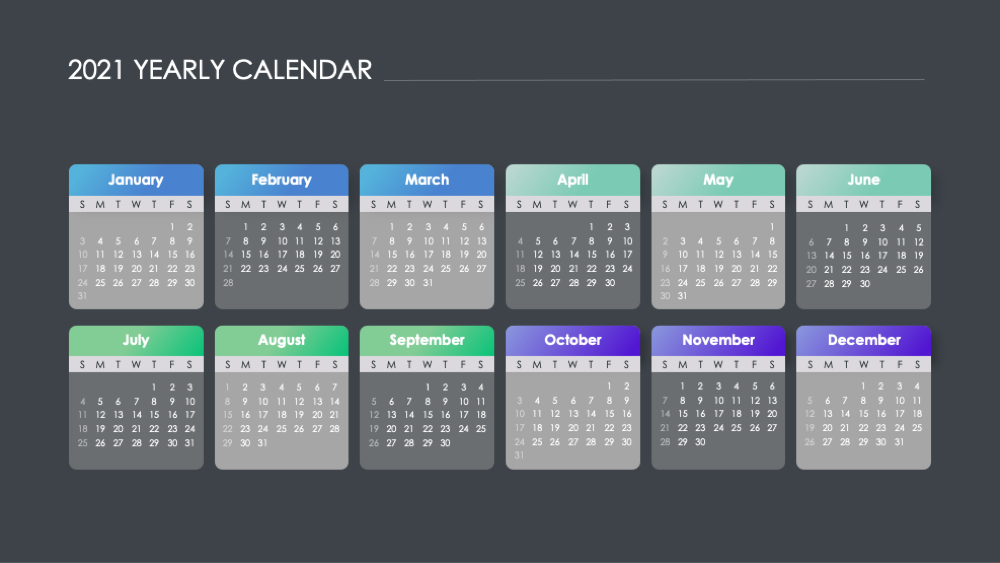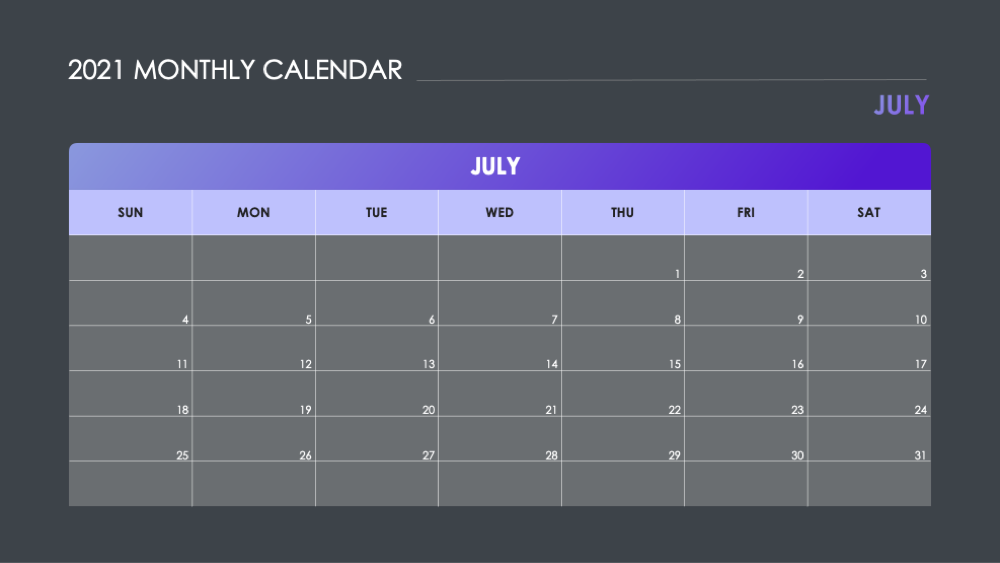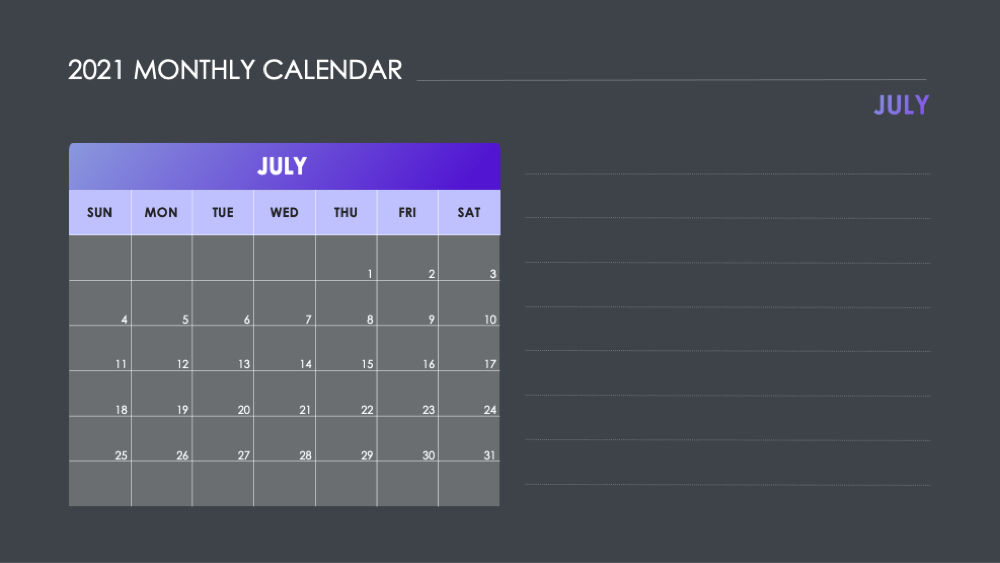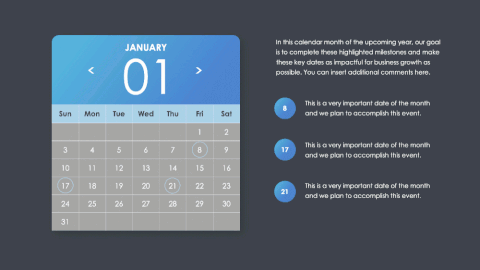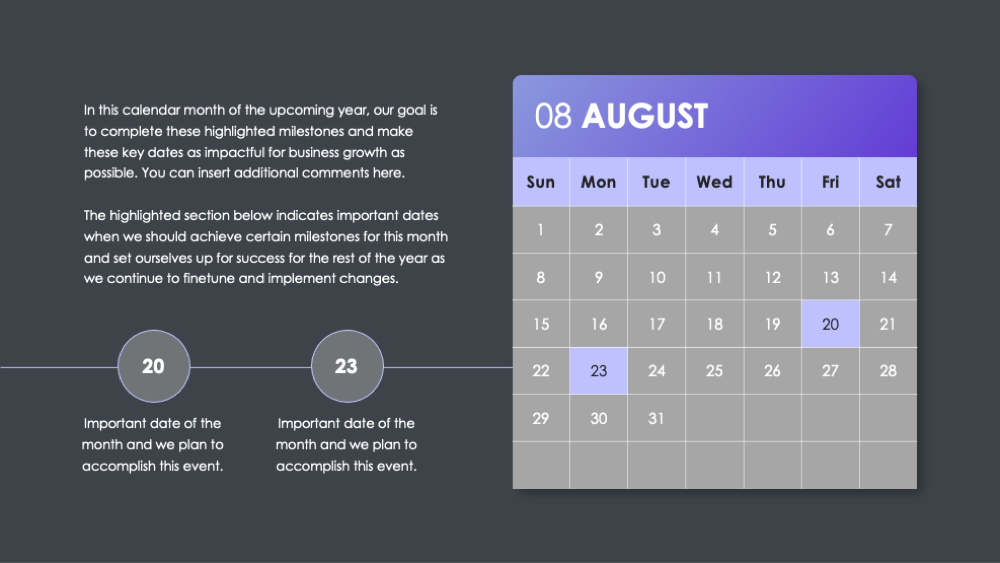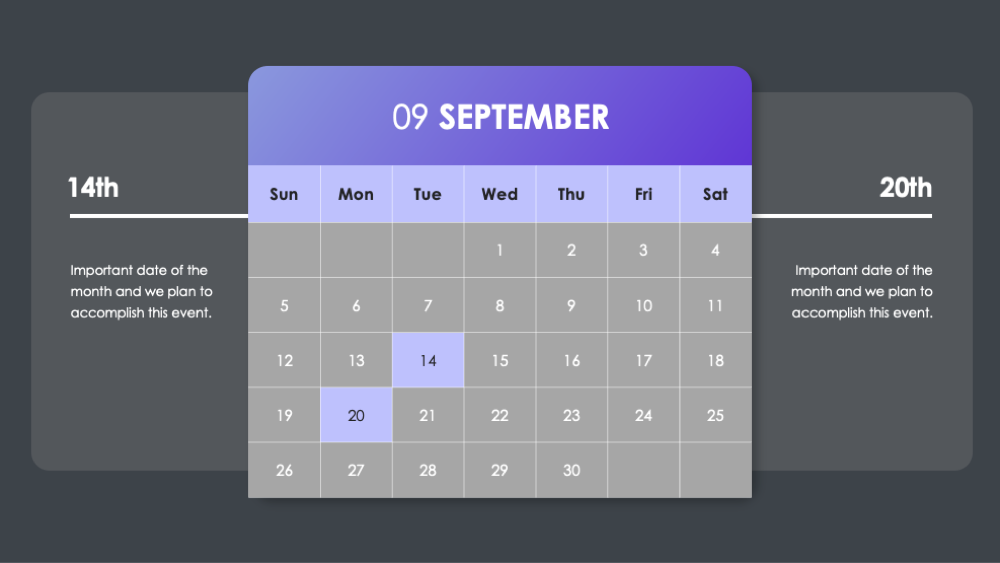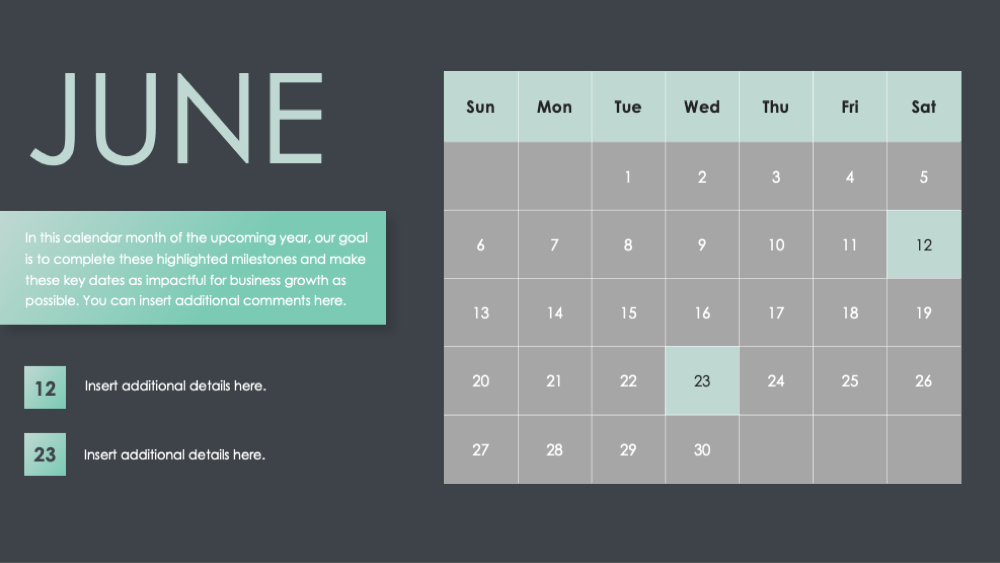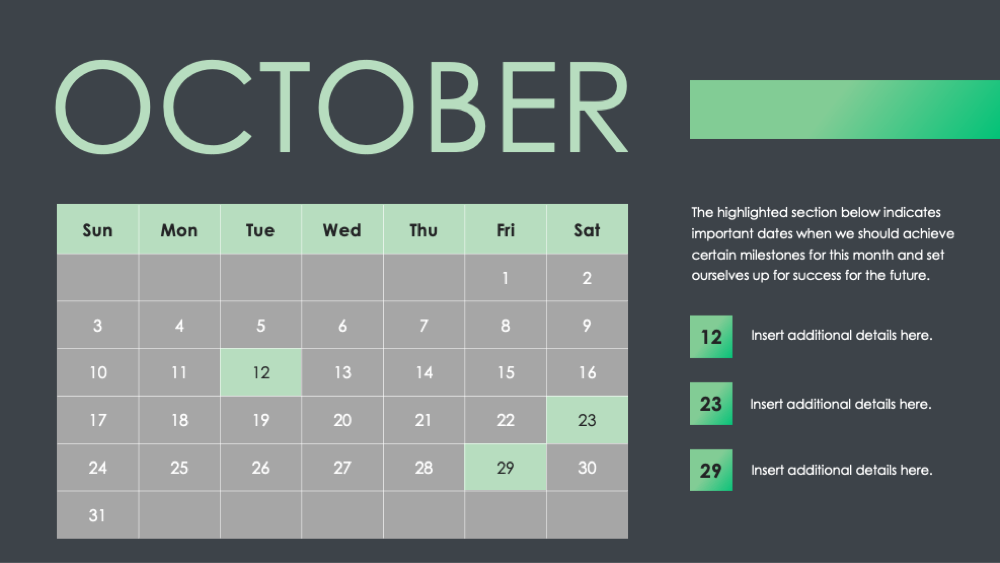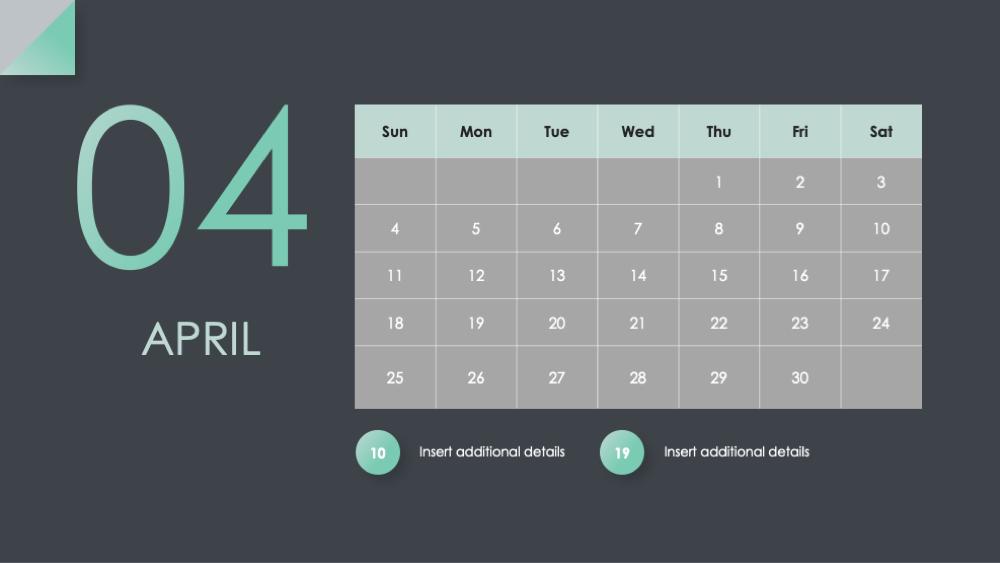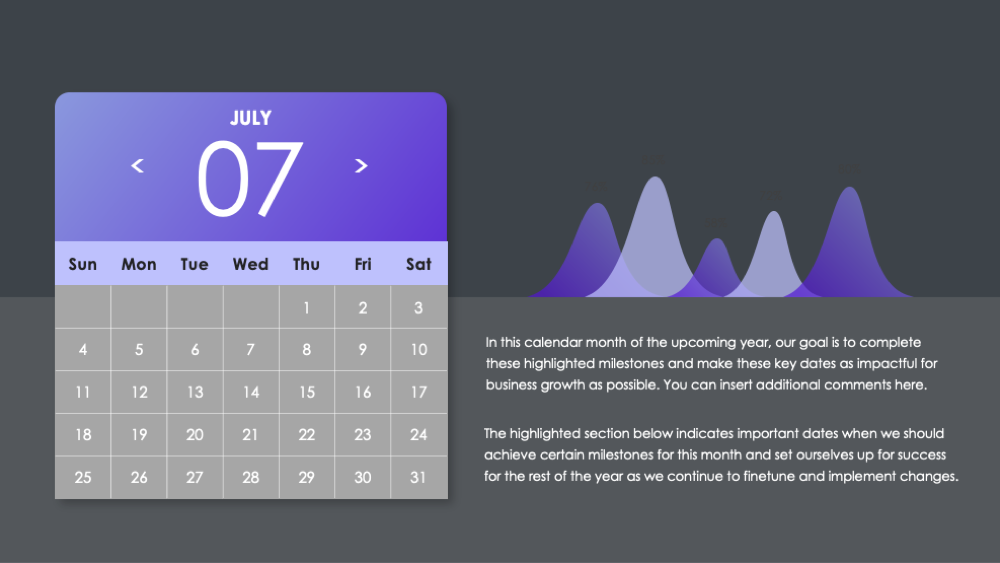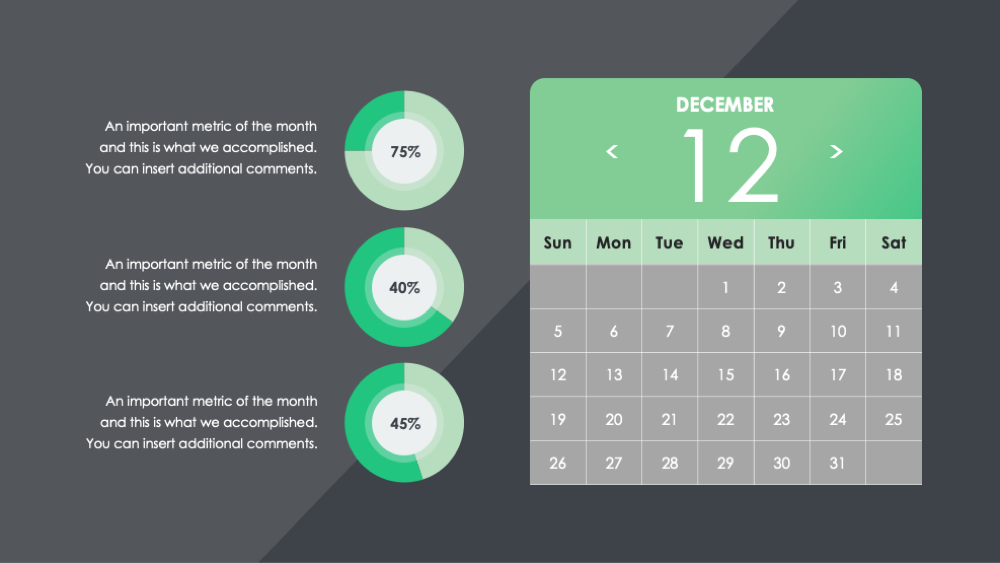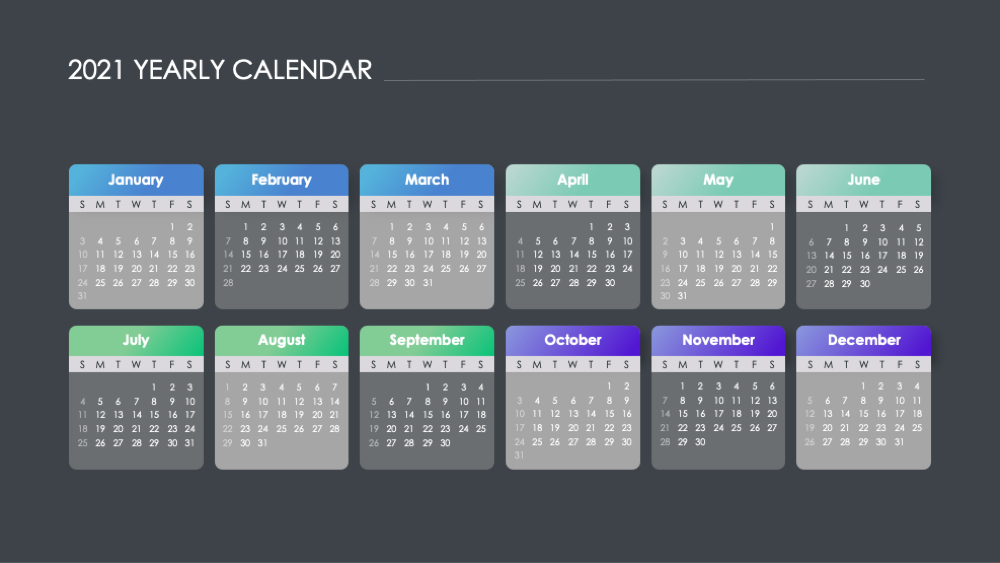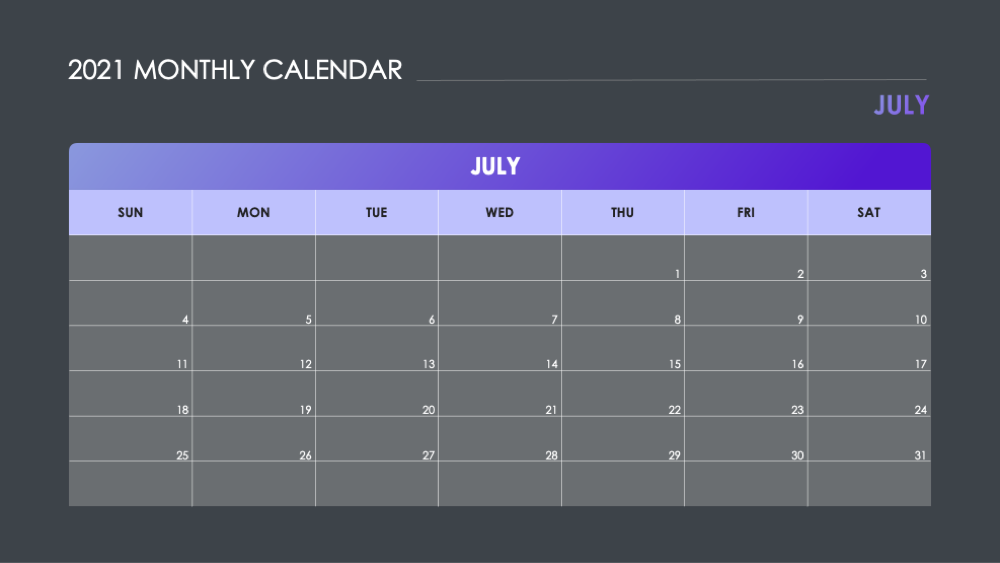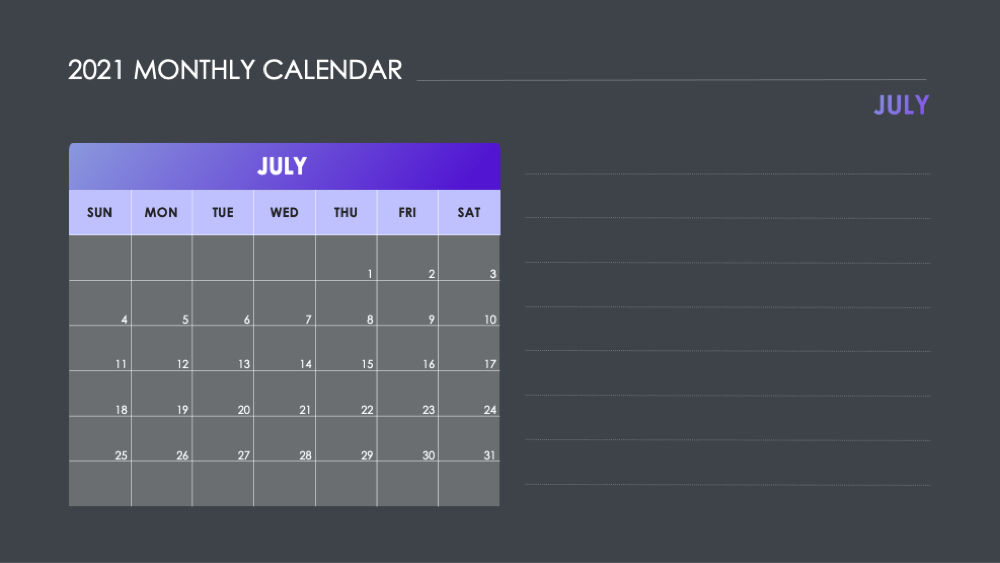 Preview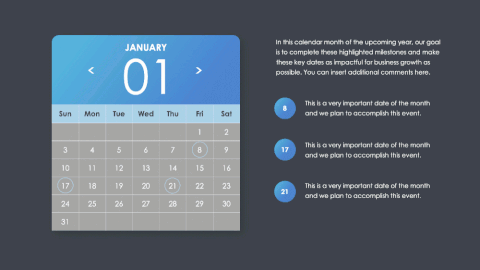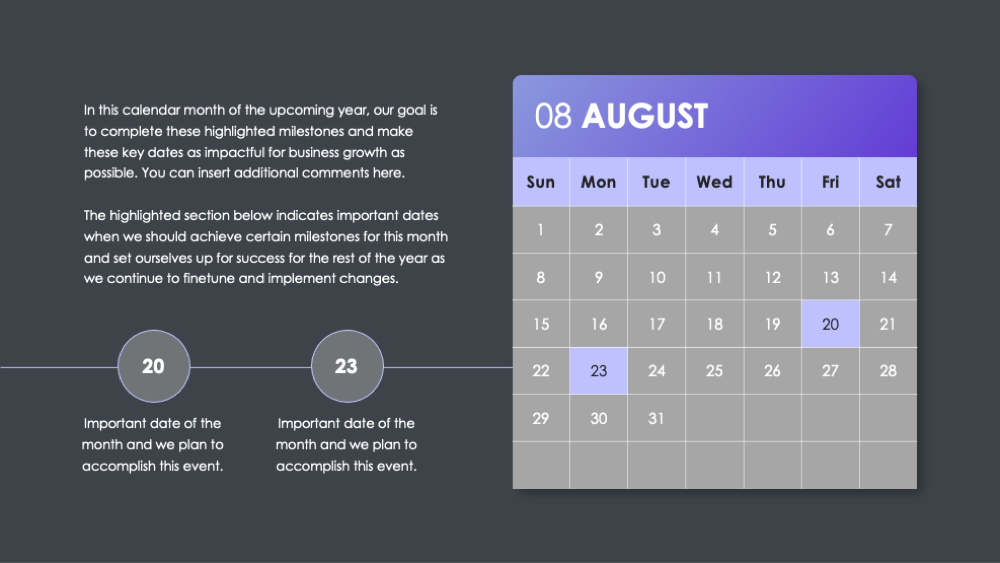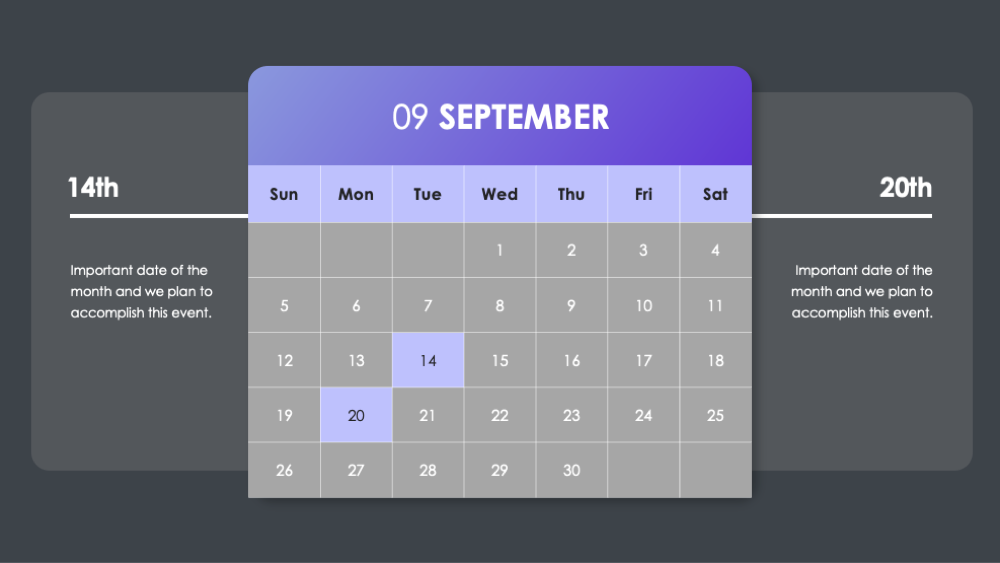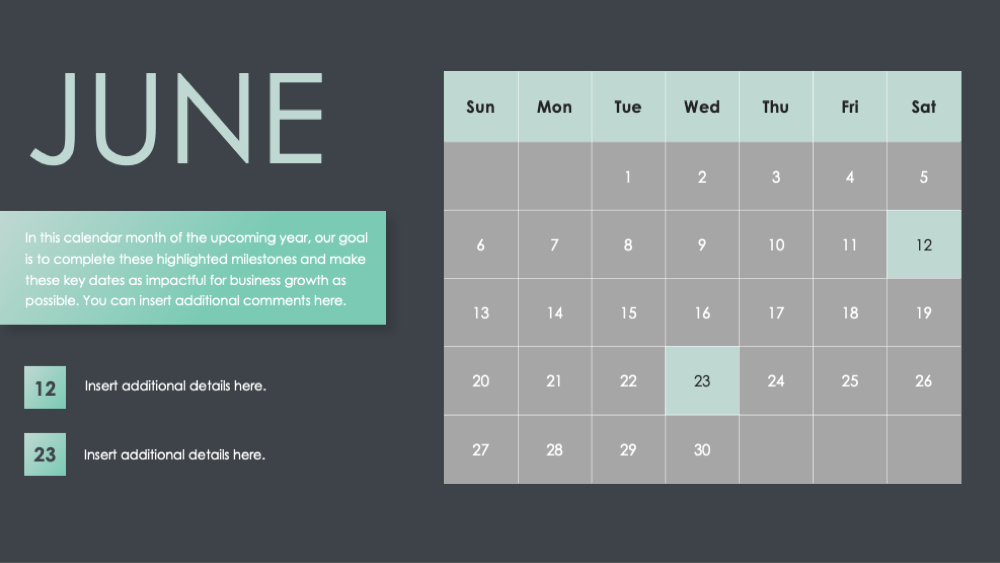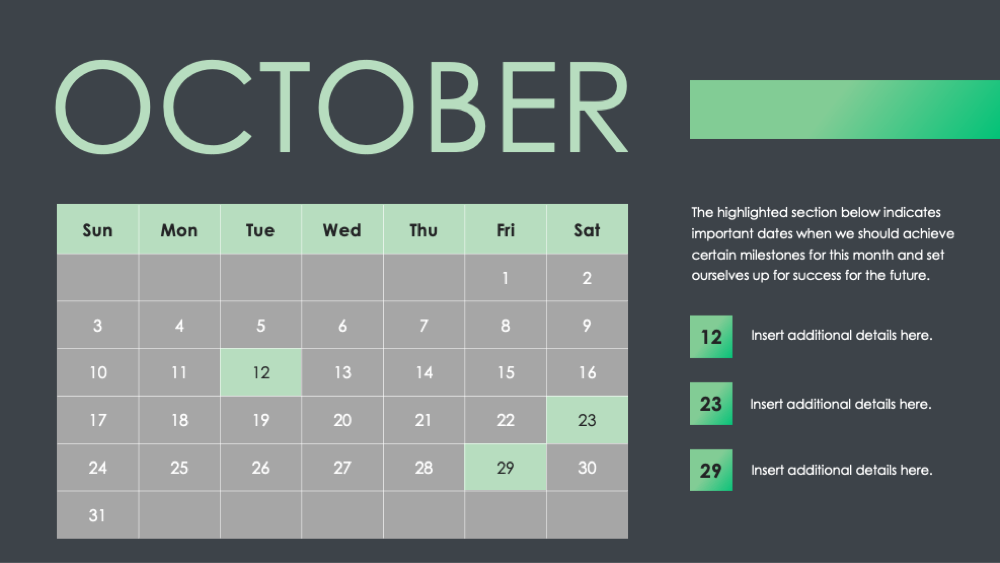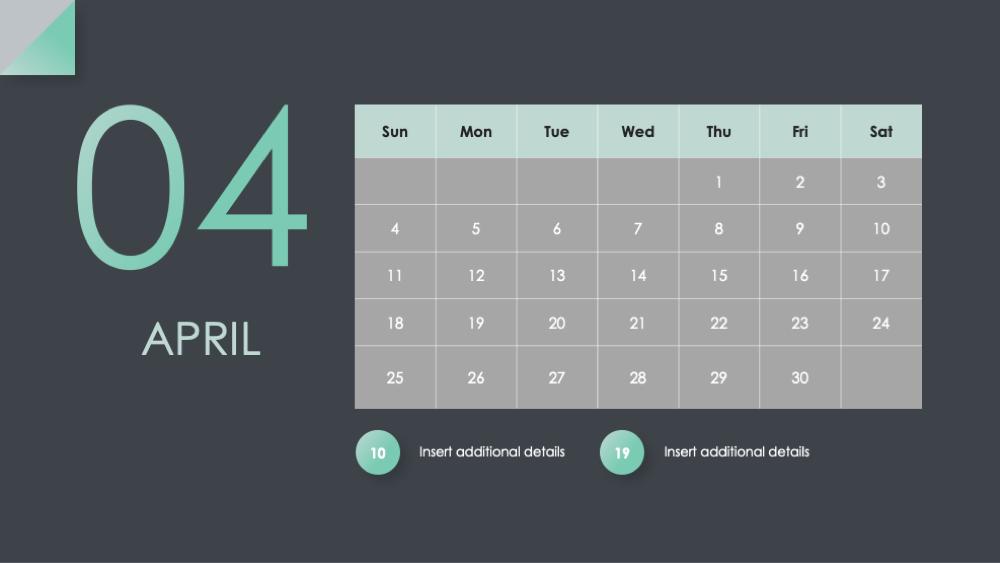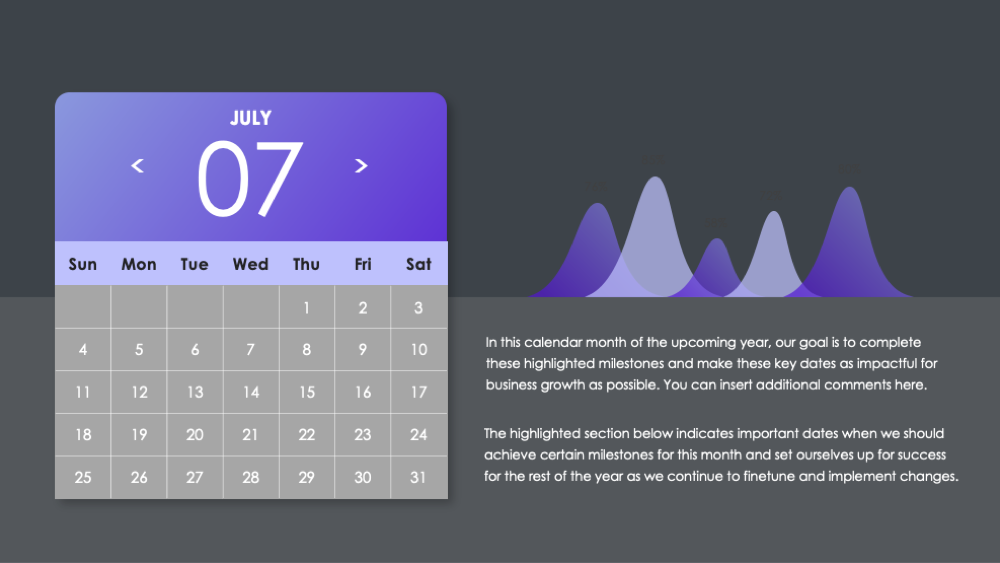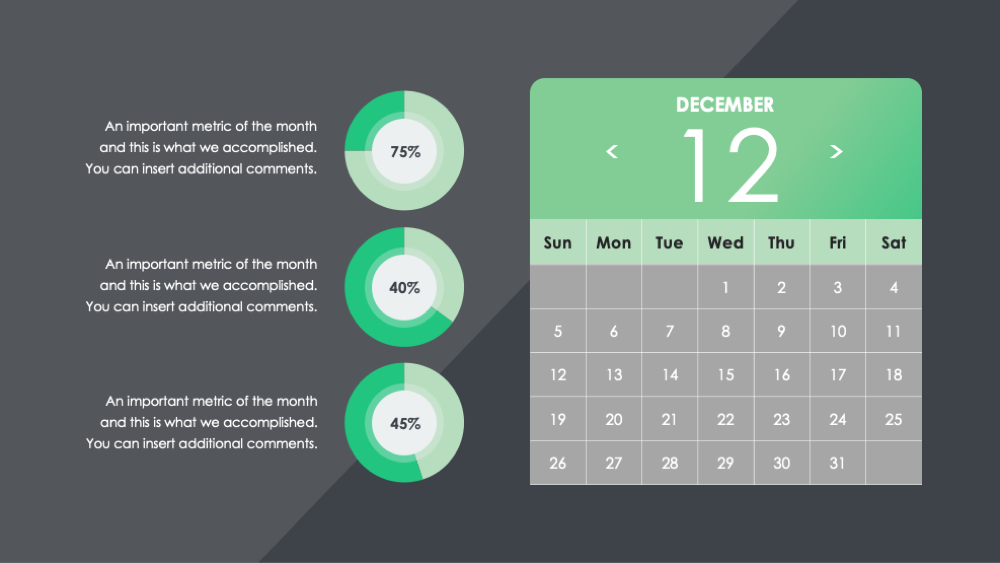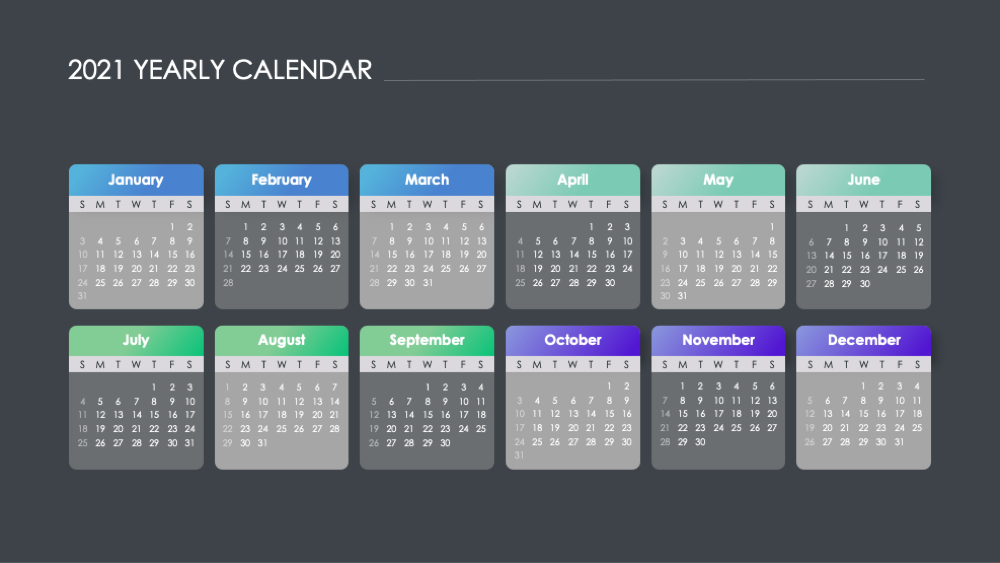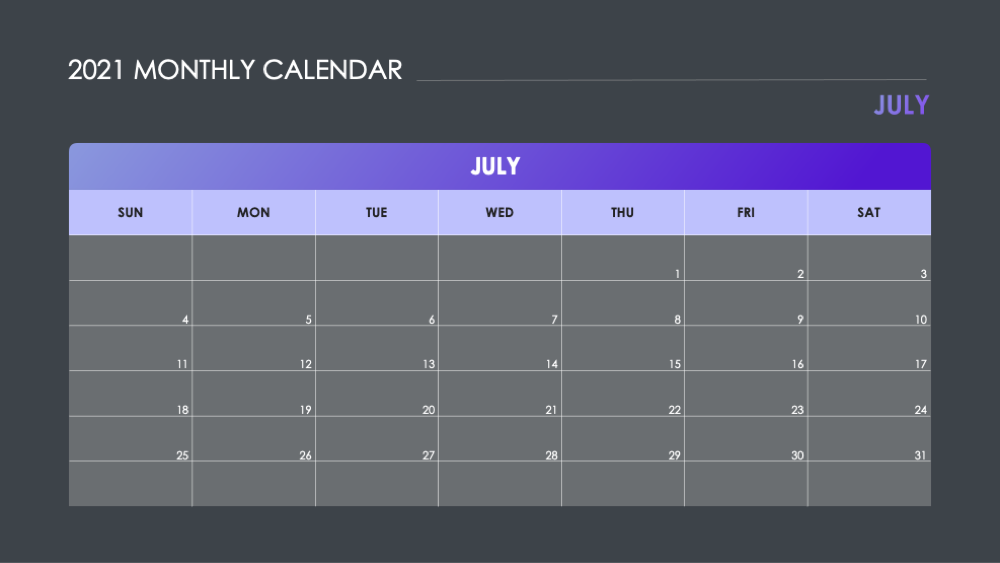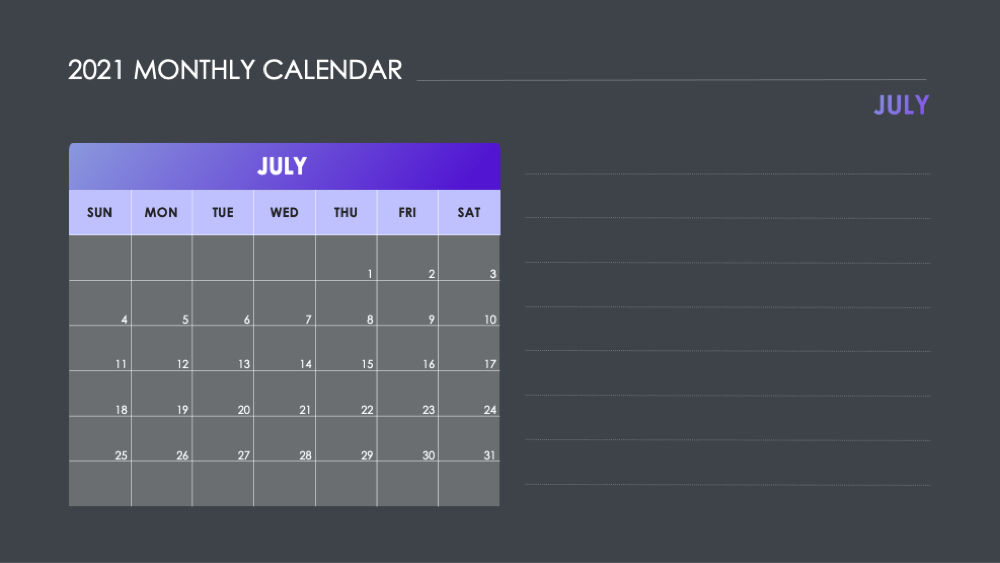 Synopsis
Start your yearly planning early with our 2021 Calendar slides, available in light and dark modes, and give your business, professional and personal life the direction and momentum to experience its best year yet. Reflect, let go, schedule, brainstorm, define New Year's resolutions, set goals and upgrade your mindset to match your dreams in 2021.
Slide highlights
Slides, such as this one give you flexibility and functionality of various customizable designs. For instance, you can use them to add brief notes to your plan for a particular month, quarter, week or day.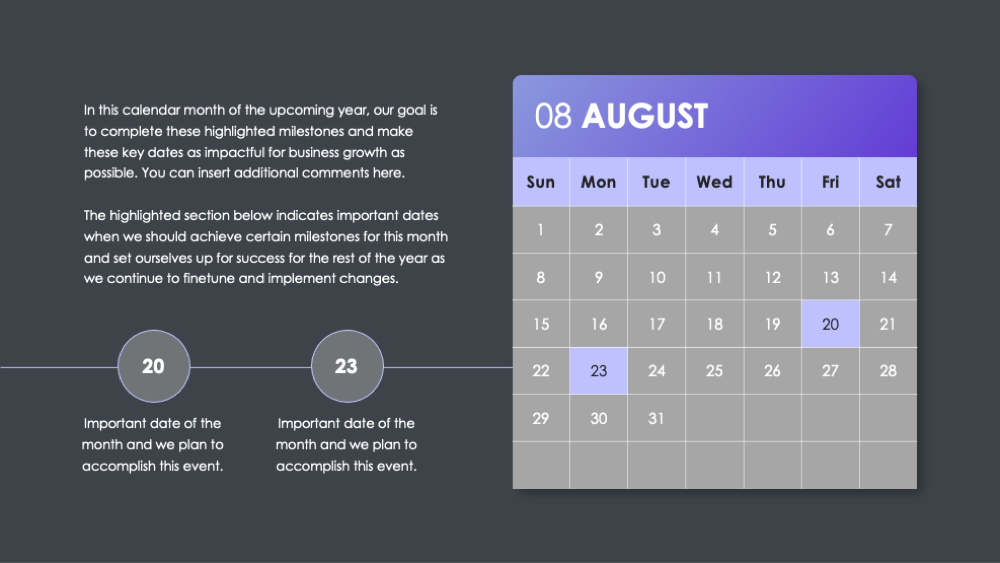 Use this slide if you need to create a business calendar for a month. For example, monthly calendars are perfect for planning marketing and social media campaigns around trends and holidays.
For your convenience, the dates have been matched correctly to the days of the year 2021. For yearly planning, consider SWOT analysis, a tool to reveal strengths, weaknesses, opportunities and threats.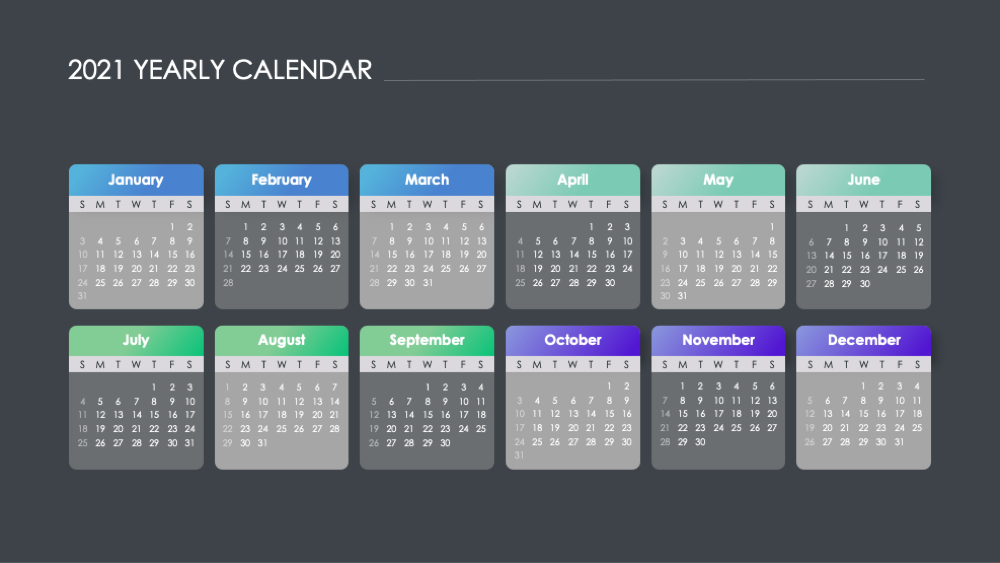 Overview
Planning is essential for any company of any size. But, as Alessandro Di Fiore, the founder and CEO of the European Centre for Strategic Innovation (ECSI) and ECSI Consulting, puts in in his piece for "Harvard Business Review:" "executives are wary of planning because it feels rigid, slow and bureaucratic." The remedy for this issue, Di Fiore says, is agile planning.
Per Di Fiore, agile planning has a number of characteristics, which include:
frameworks and tools able to deal with a future that will be different
the ability to cope with more frequent and dynamic changes
the need for quality time to be invested for a true strategic conversation rather than simply being a numbers game
resources and funds are available in a flexible way for emerging opportunities
Application
Society for Creative Founders lists these steps for planning a productive and satisfying year:
Think "bigger picture"

– first, dump everything you can think of on paper. Don't worry about the order of goals, accuracy or even how realistic it is to accomplish them. Then think about what the number one priority is, circle it and list all the tasks needed to accomplish the biggest goal.

Cross off three months of the year

– when the goals are determined, look at your year and cross off three months you will not set goals for new things to do for your business because your need to account for when life is going to happen (and it sure will).

Create an ideal week

– look at every single hour of the day and decide which days will be dedicated to achieving your goals. "Plugin the times you'll do your personal items as well – for example, if you know you want to begin your morning reading a book or going for a walk, write that down!" the experts say.

Use time blocking

– see if you can use time blocking to help you complete more in one sitting. Try to block out 2-3 hours to focus solely on one task.

Learn which tools help you the best

– next year, choose one planner and one productivity tool to master and stick with it for at least 90 days. Scientists suggest that it takes 66 days to develop a habit, but if you know you have a high priority for the quarter, you can dedicate the whole 90 days to improving the process.

Don't be afraid to change direction

– make sure to be open to possibilities that could present themselves next year. "You don't want to be so focused on sticking to the goals that you set for yourself in January that you don't see that perhaps your business is shifting in a new direction," the experts say.

Appreciate consistent and steady progress

– think out one goal, one task, one day, one hour at a time. Working through them at a steady, consistent pace will help to not only check-in continually, but also be able to see the progress you make, knowing it is from a place of mindfulness rather than hustle.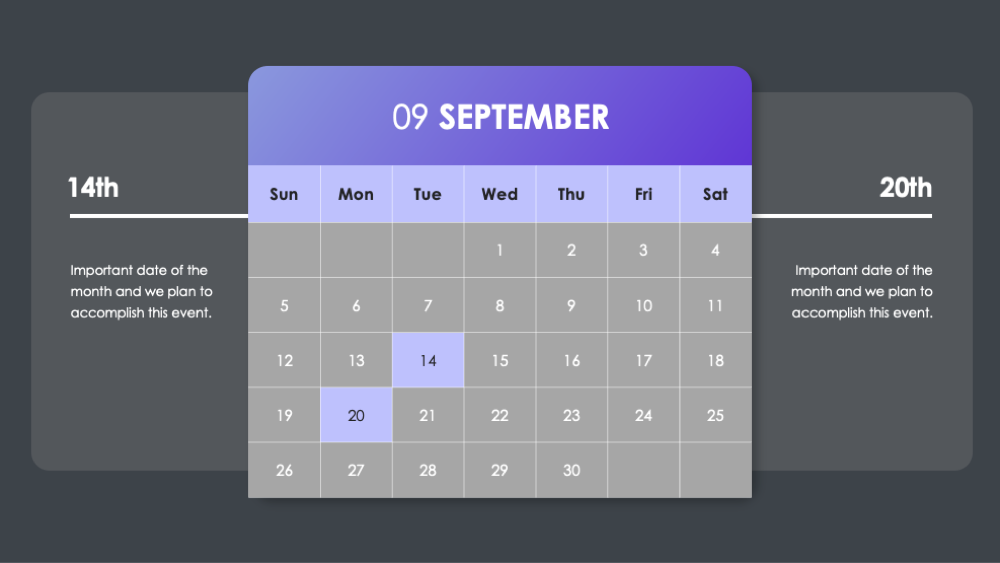 Statistics
To help you plan the upcoming year like a pro, we turned to a study conducted by Harvard University. Researchers tracked the time allocation of 27 CEOs for a full quarter. The companies run by the CEOs surveyed were primarily public and had an average annual revenue of $13.1 billion during the study period.
Here is what the study found:
CEOs make time for personal well-being
Given that work could consume every hour of their lives, CEOs have to set limits so that they can preserve their health and their relationships with family and friends. Most of the CEOs in the study recognized that. They slept, on average, 6.9 hours a night, and many had regular exercise routines, which consumed about 9% of their non-work hours (45 minutes a day).
They work face-to-face
The top job in a company involves primarily face-to-face interactions, which took up 61% of the work time of the CEOs we studied. Another 15% was spent on the phone or reading and replying to written correspondence. The final 24% was spent on electronic communications, the researchers found.
They avoid the lure of email
In theory, email helps leaders cut down on face-to-face meetings and improve productivity. In reality, many find it ineffective and a dangerous time sink – but one they have trouble avoiding. Email interrupts work, extends the workday, intrudes on time for family and thinking and is not conducive to thoughtful discussions. CEOs are endlessly copied on For Your Information (FYI) emails and feel pressured to respond because ignoring an email seems rude.
They are agenda-driven
The CEOs invested significant time – 43%, on average – in activities that furthered their agendas. Some were far more disciplined about this than others. In fact, time devoted to the core agenda varied widely, ranging from 14% to 80% of leaders' work hours. Most CEOs the researchers talked with agreed that the more time they spent on their agendas, the better they felt about their use of time.
They rely heavily on their direct reports
The CEOs invested significant time – 43%, on average – in activities that furthered their agendas. Some were far more disciplined The study found that about half (46%) of a CEO's time with internal constituencies was spent with one or more direct reports, and 21% of it was spent only with direct reports. The total time spent with direct reports ranged from a low of 32% of the time with internal constituencies to a high of 67%.
They manage using broad integrating mechanisms
The most powerful integrating mechanisms include strategy (on which CEOs in the study spent an average of 21% of their work time), functional and business unit reviews (25% of their time), developing people and relationships (25% of their time), matching organizational structure and culture with the needs of the business (16% of their time) and mergers and acquisitions (4% of their time).
They are always in meetings
CEOs attend an endless stream of meetings, each of which can be totally different from the one before and the one that follows. Their sheer number and variety is a defining feature of the top job. On average, the leaders in our study had 37 meetings of assorted lengths in any given week and spent 72% of their total work time in meetings.
They juggle many external constituencies
While the CEOs the researcher surveyed spent the majority of their time (70%, on average) dealing with internal constituencies, a good chunk (30%, on average) was spent with outsiders: 16% with business partners, such as customers, suppliers, bankers, investors, consultants, lawyers, PR firms and other service providers; 5% with the company's board of directors; and 9% on other outside commitments (service on other boards, industry groups, dealing with the media and the government and community and philanthropic activities).