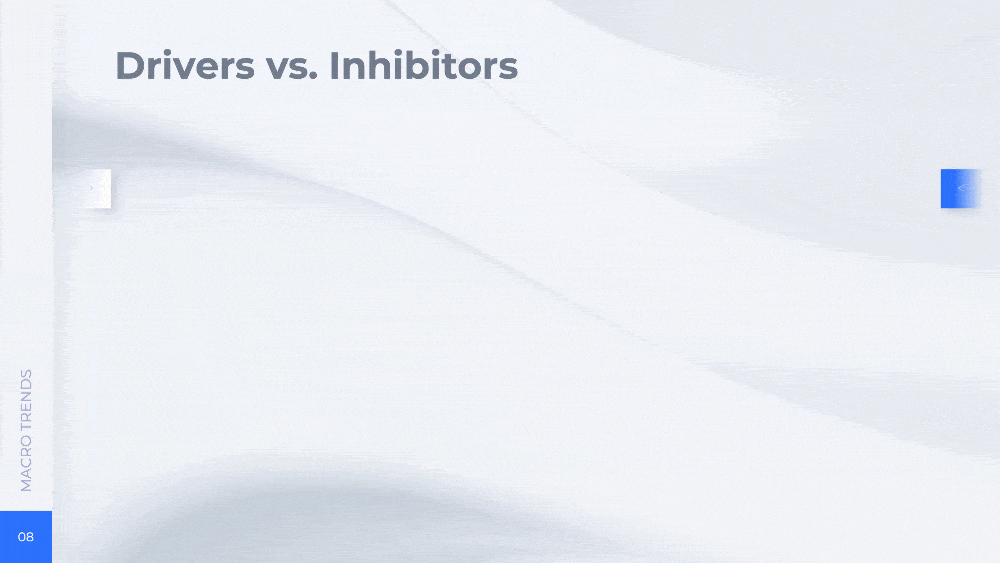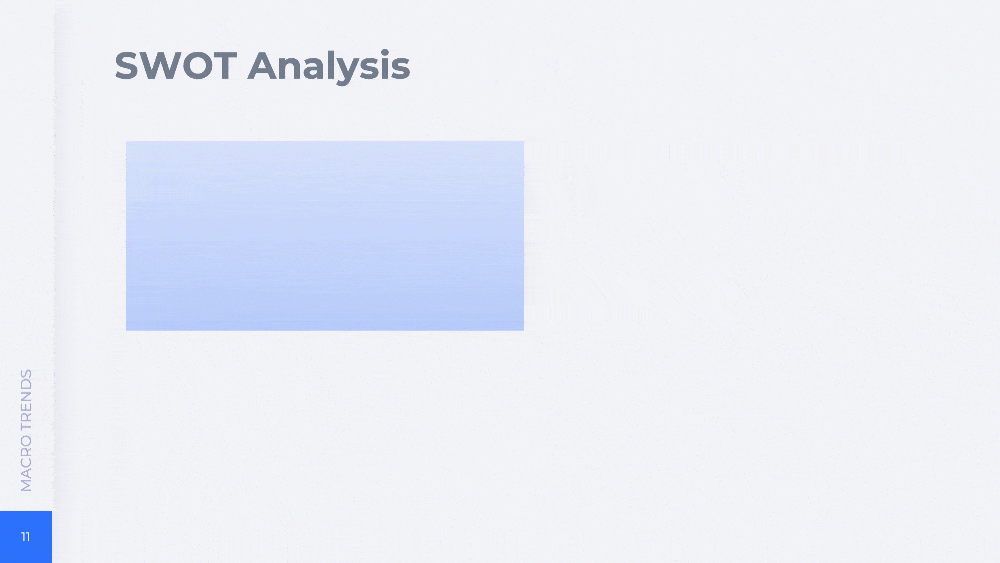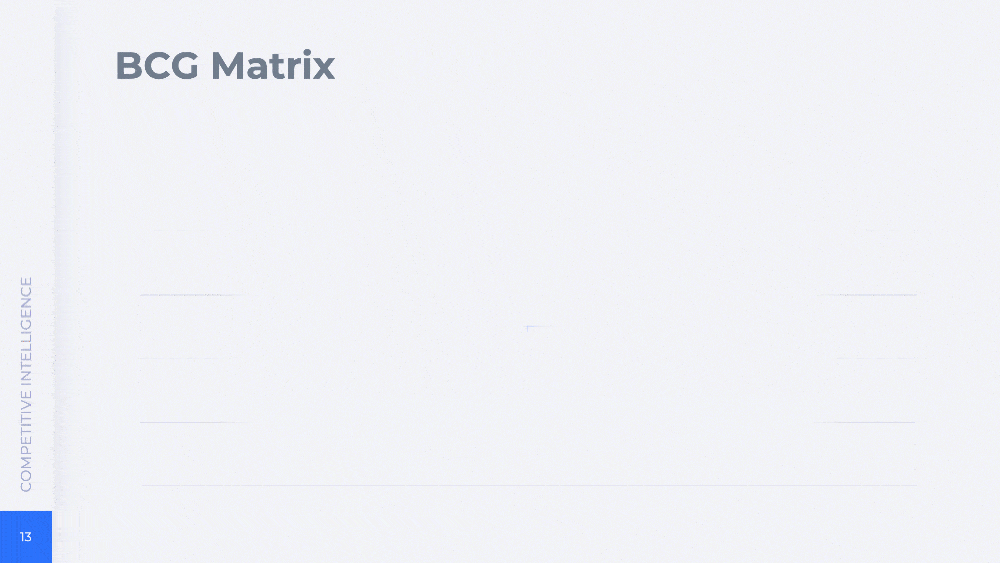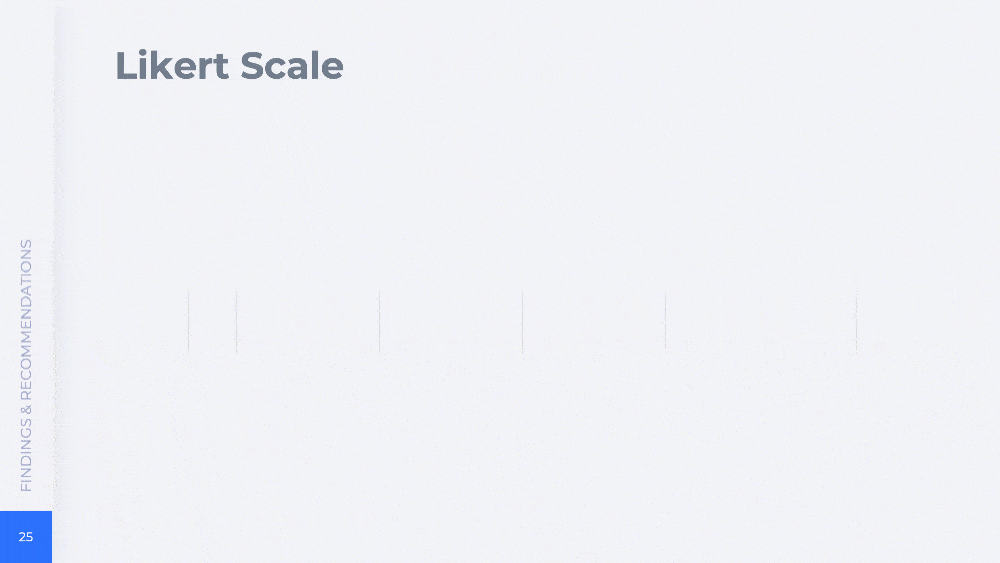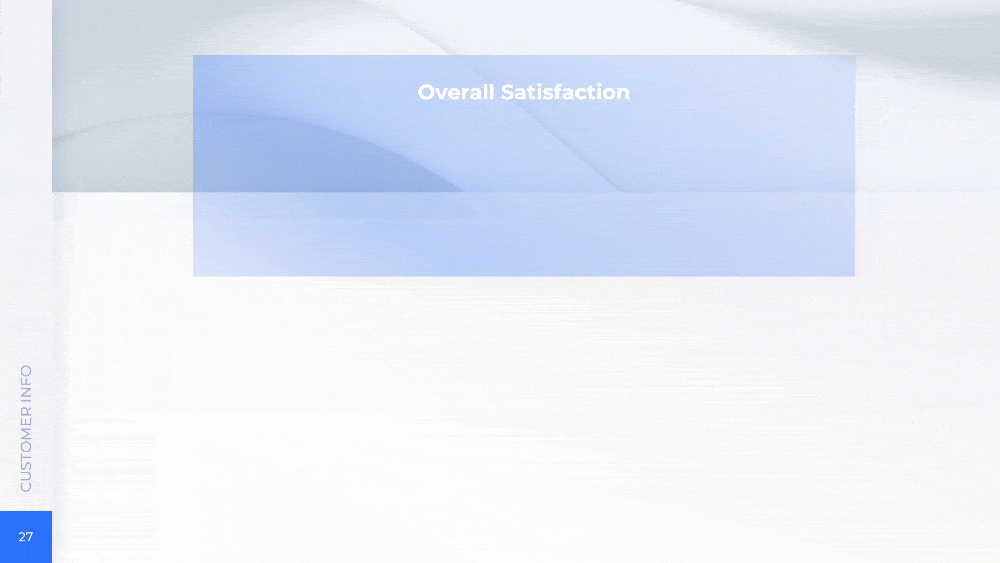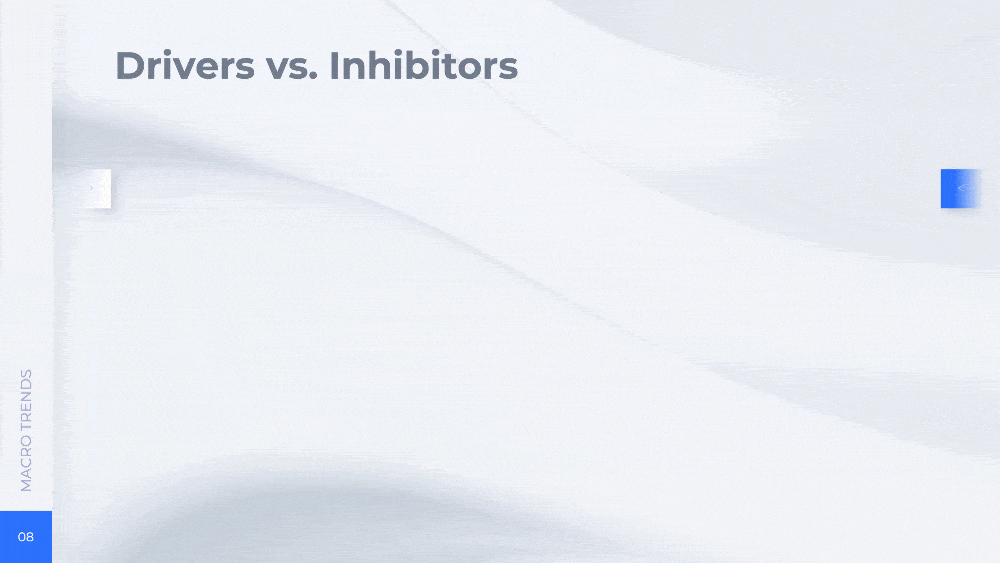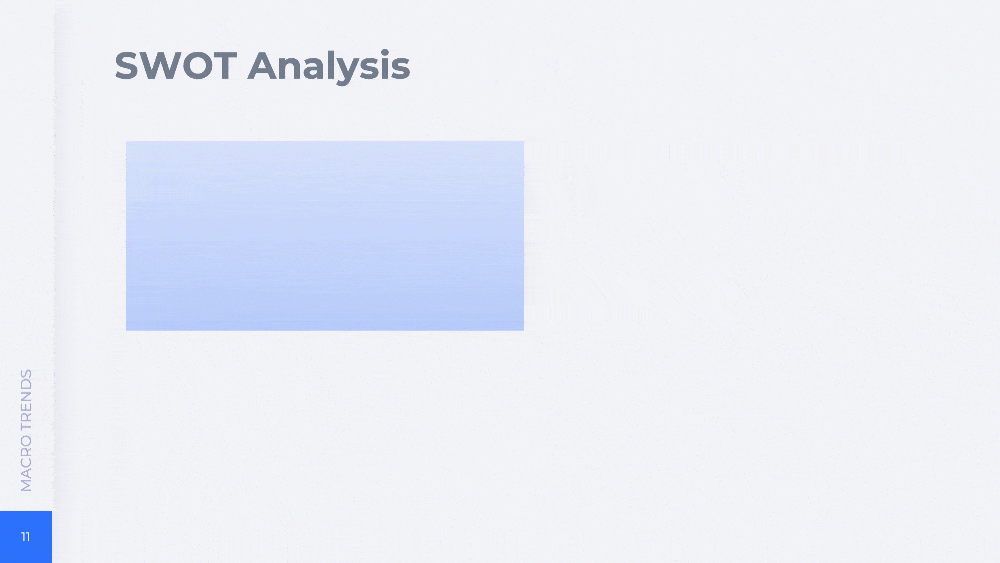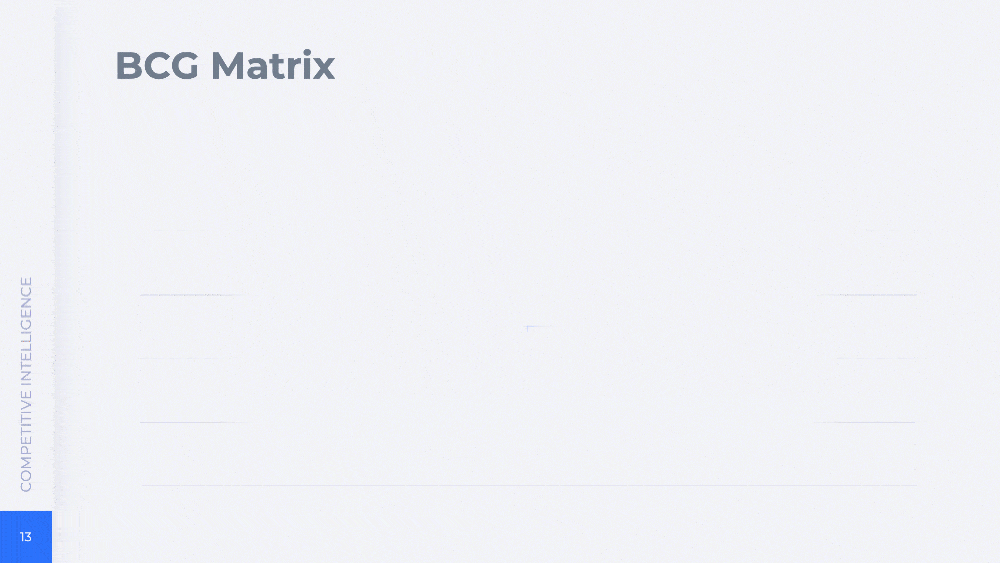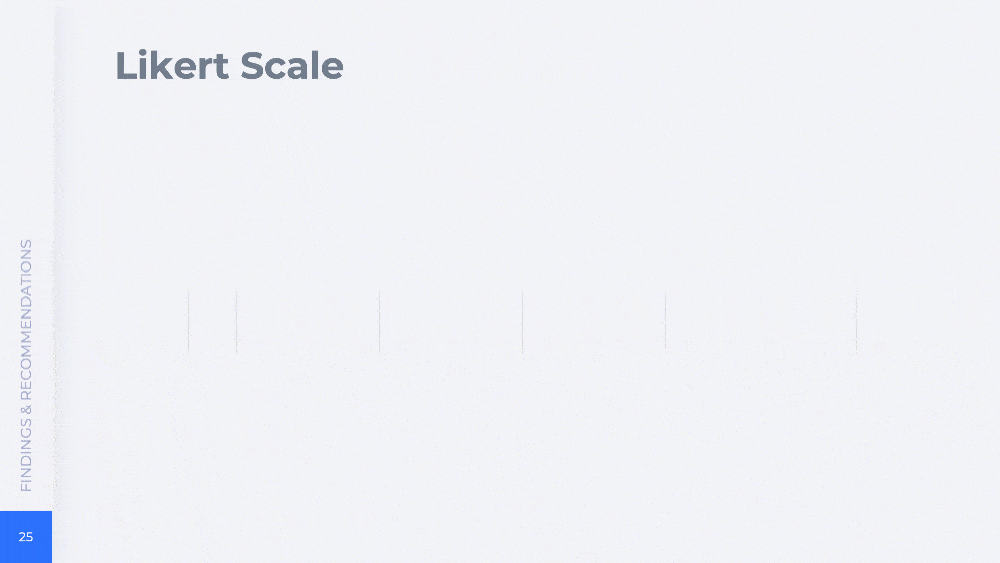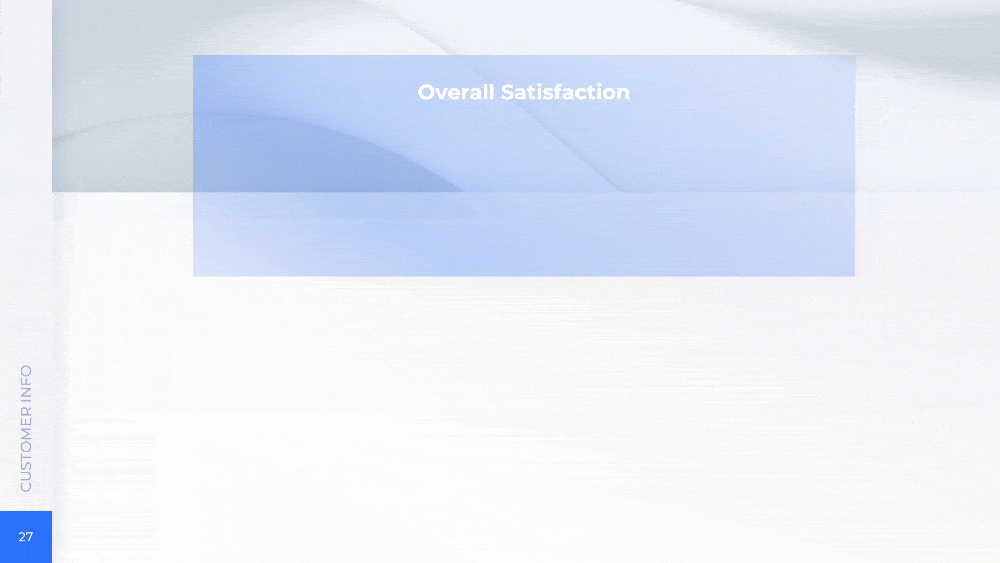 Explainer
Preview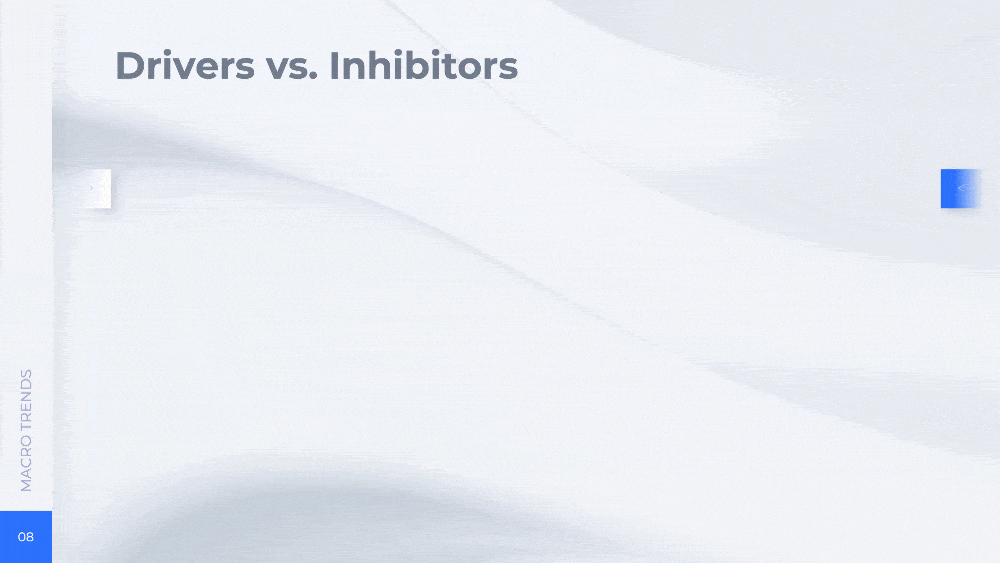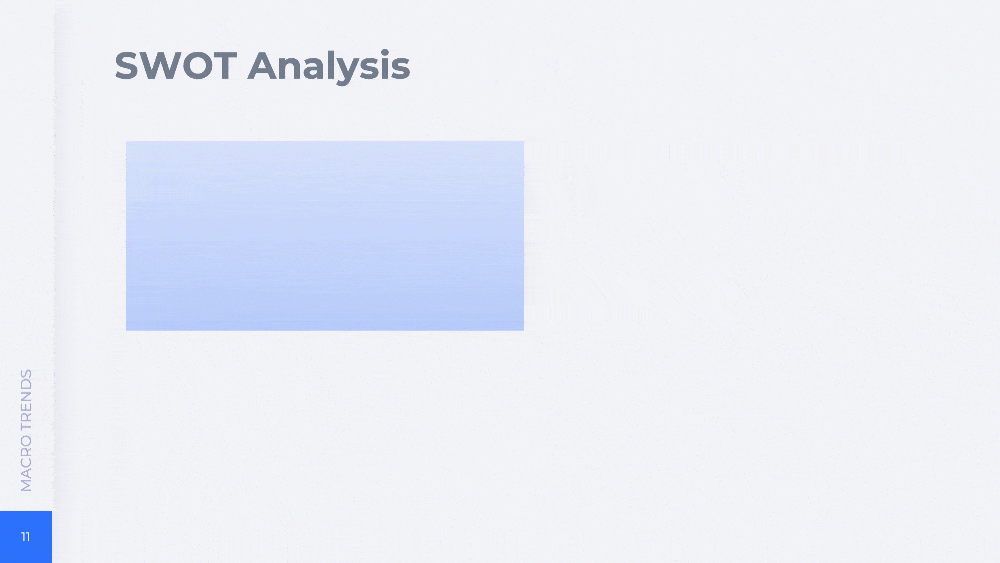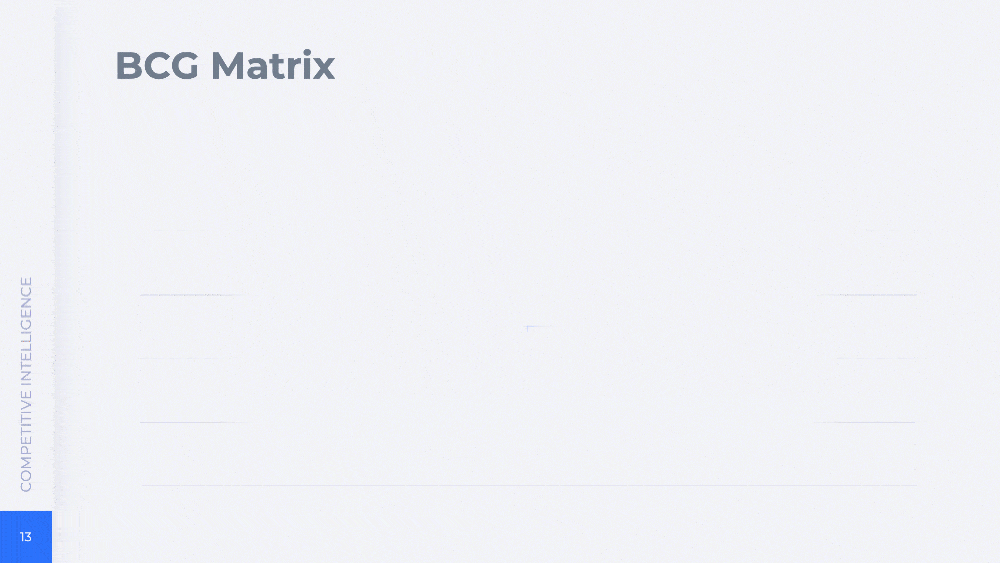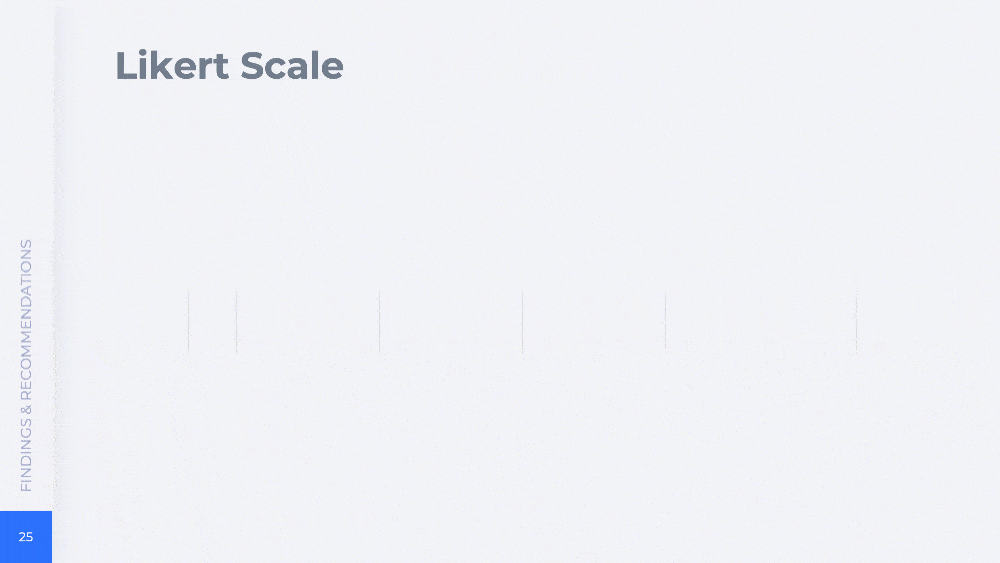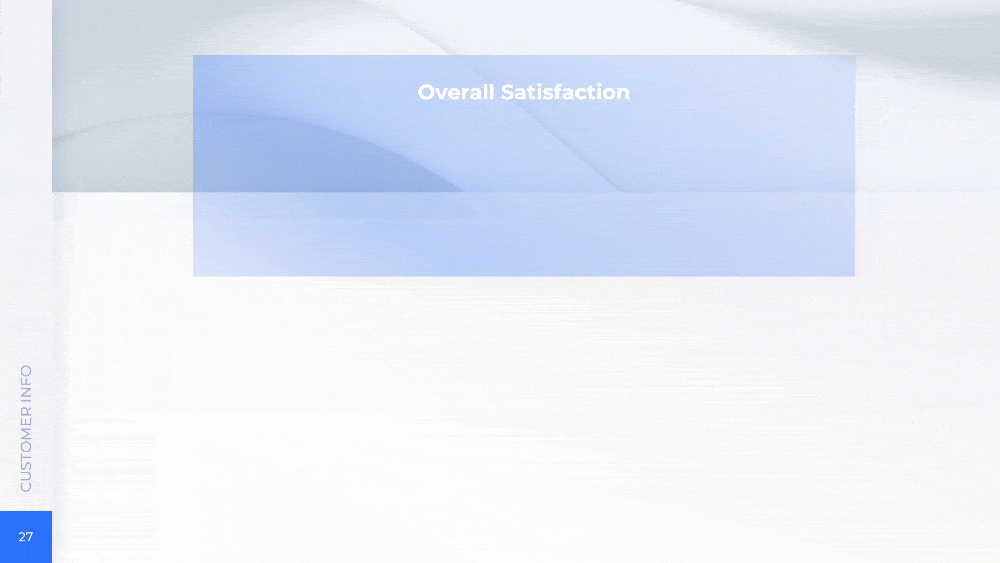 Synopsis
How to use market trends to bring in new business opportunities? This Market Research presentation provides tools that organize, present, and evaluate market insights that could lead to the next big ideas.
BCG Matrix
For any market your organization is interested in, it's vital to know how you stack up against key competitors. Developed by Boston Consulting Group, the BCG Matrix is a versatile, battle-tested tool that can be used to plot the market's competitive landscape.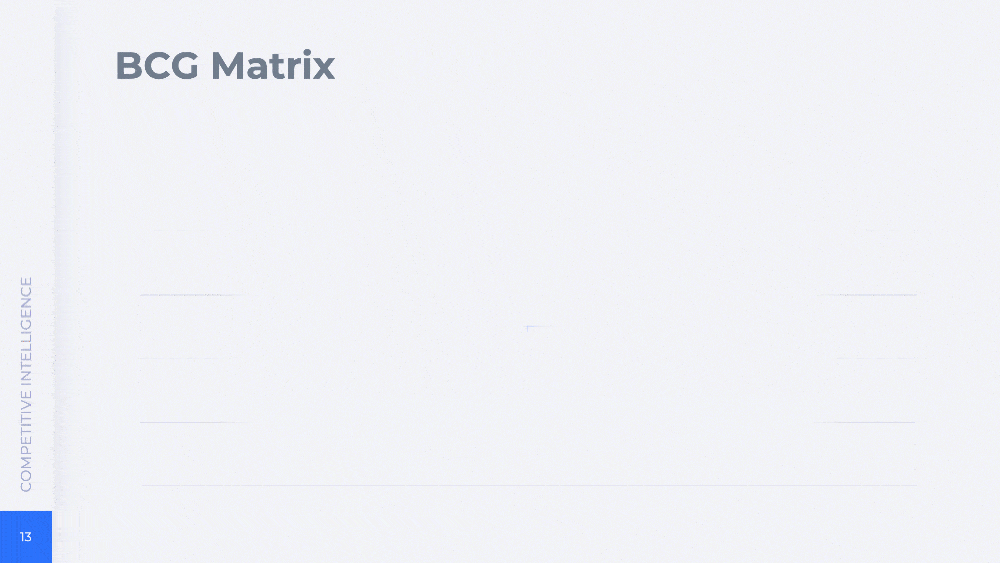 The graph highlights the status of each firm according to their Market Share and Market Growth. (Slide 13)
Companies with high market share and high growth are referred to as Stars. These tend to be the most successful players. So if you have competitors that fall in this range, watch out for their core capabilities.
But what if you want to target a more niche audience? In that case, keep an eye out for competitors that have low market share but high growth. These Question Mark players might not seem to target a lot of consumers, but the uniqueness of their offering can really set them apart and expedite growth.
Drivers vs. inhibitors
In every industry, there are macro factors that will either help or hinder your growth strategy. It's up to you to use them to your advantage, or lessen their harmful impact.
The items in this Drivers and inhibitors comparison are yours to edit and check off as they take place in real life. (Slide 8)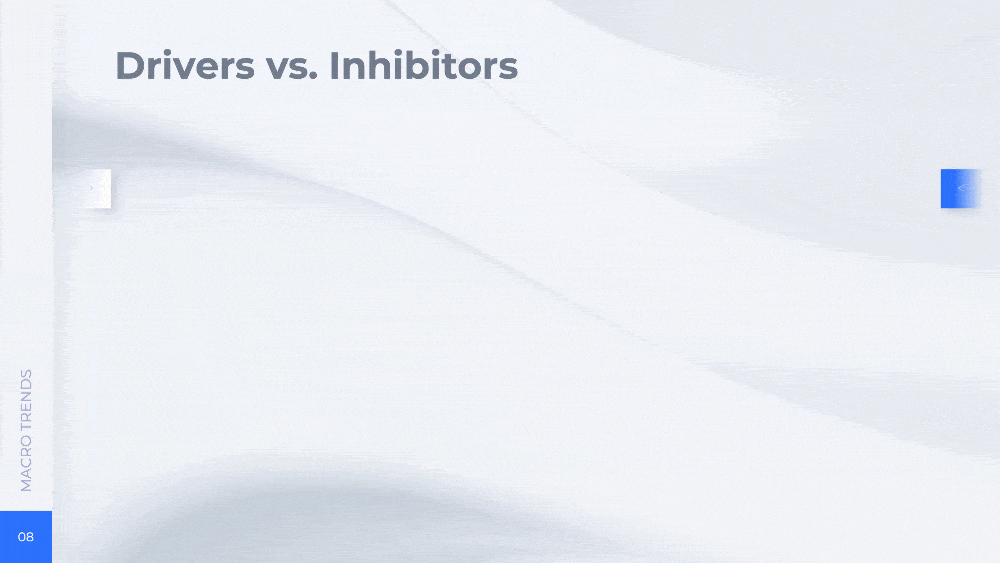 Market Drivers, also known as tailwinds, are favorable conditions that help push toward your strategic goals. Market Inhibitors, or headwinds, are potential obstacles that might slow down or derail your efforts.
For example, if your company makes electric cars, a tailwind might be high government subsidies; while a headwind could be unstable to the supply chain.
Growth regions
In an increasingly digitized world, it's now more feasible than ever to expand business offerings to a new region.
Use this Growth Regions map to highlight which locations have the most growth potential. Often, these are areas that demonstrate a clear uptick in demands for unfulfilled customer needs. (Slide 6)
Let's say you are a digital bank that wants to tap into the unbanked population in South America. On the right, plot the year-over-year growth of the fintech industry. Then break this number down to see what portion of that growth comes from the regions you're eyeing. Does the data validate your assumptions?
Competitive intelligence
Similar to the BCG Matrix, the Competitive Intelligence table can be used to see how your company compares to competitors on key metrics. As always, you can edit these key metrics based on what matters the most to your business's success. The scores can also be adjusted. (Slide 12)
At a glance, the heatmap visualization makes it easy to pick up on the areas your firm should leverage. In this example, product quality is your biggest differentiator. So use it to position your value.
Market Segmentation
Making the right product for the right people is critical for product-market fit. So keep tabs on who is using your product and how they think and act. The Market Segmentation tool can be used to delineate your target user base, and neatly plot the findings.
Factors such as User Locations are standard demographic information. Whereas psychographic details, such as "Topics that drive engagement", dig into the "why" behind user behaviors. (Slide 17)
If a select few factors really stand out to you and potentially signal a deeper trend, make sure to let that information take center stage when you present to stakeholders. (Slide 18)
Market growth forecast
Taking a broader view, industry projections are a vital part of any market research. It allows you to place your company within the context of the overall trajectory of the market.
On this Market Growth Forecast slide, the bar chart enlists real-life data to prove that your initial hunch about growth areas is worth exploring. (Slide 7)
In this example, the vertical bars represent market growth over periods of time. And each color shade represents a product or service category within that sector. Use this tool to map out industry data, sector by sector, so you can make smart product suggestions — and get the rest of the team to support your idea.
Likert scale
Surveys and questionnaires are a common way to collect customer sentiments. To organize and plot survey responses, use the Likert Scale.
For each question, the collective customer responses are assigned a score. The higher the score the better the average sentiment. (Slide 25)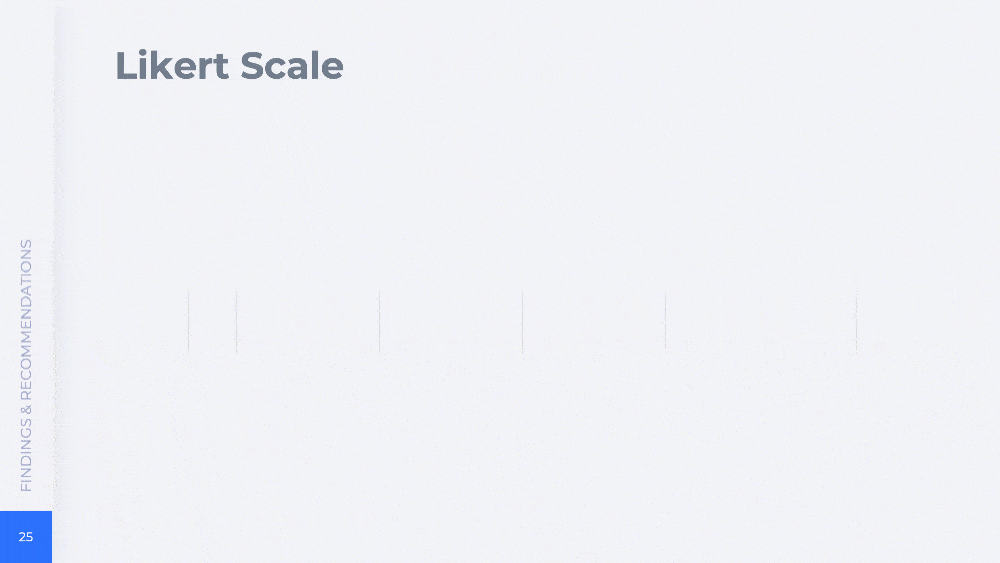 Additionally, when you have big enough of a sample size, break down survey responses to see how many people responded with what. For example, in answering if image rotation is useful for viewing products from different angles, more than half of the respondents answered extremely positively.
Organize and present findings for your Market Research with the tools from this presentation, which you can download and customize right now. Use them to explore new ideas, backed by real world data.